| | |
| --- | --- |
| Posted on January 14, 2015 at 2:10 PM | |
Kaleidoscope of Trash RALEIGH — A new public art installation at one of the city's garbage and recycling facilities encourages viewers to think about their role in minimizing waste in their communities.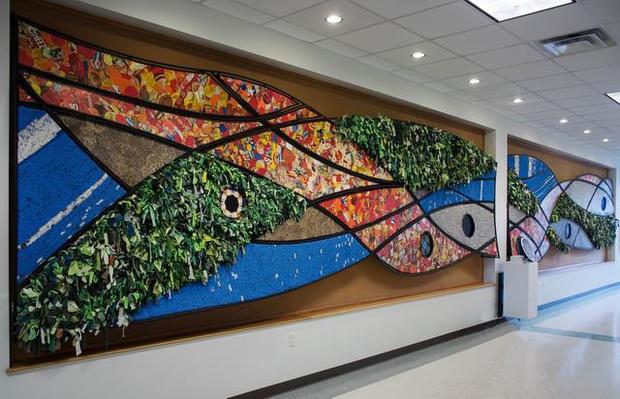 Image credit: Midtown Raleigh News article by Sarah Barr January 21, 2014 Wilders Grove public art project focuses on recycling & Courtesey of City of Raleigh
The colorful 8 feet by 40 feet relief wall inside the Wilders Grove Solid Waste Services Facility is made of layered recycled materials such as t-shirts, cereal boxes and plastic grocery bags and features interactive video kaleidoscopes that focus on the recycling process.
The city will unveil the work at an open house on Jan. 25. The piece is the first of three works of public art officials expect will open in the city before late spring. Matt McConnell, one of three artists who helped lead the project, said the project was a great one, especially because of the level of community involvement. More than 200 volunteers helped collect materials and assemble during 1,200 hours of work. McConnell, who worked with artists William Lee Cherry and Marc Russo on the design and production, said he hopes the project allows viewers to consider carefully how their decisions affect the earth.
"I hope that they can think about the way that they consume and how the waste that they create contributes to the environment," he said.
Midtown Raleigh News article by Sarah Barr January 21, 2014 Wilders Grove public art project focuses on recycling