| | |
| --- | --- |
| Posted on December 10, 2014 at 2:15 PM | |
Polystyrene pathways probably won't lead to pristine beaches?
Excerpt from https://journeytotheplasticocean.wordpress.com/2013/02/18/what-will-our-legacy-for-our-children-be/" target="_blank">What will our legacy for our children be? by 1plasticmum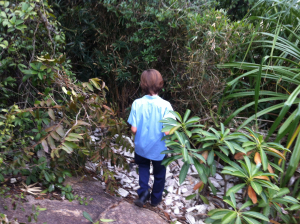 "Mum I found a secret way through the bushes to get to a rocky outcrop? All you have to do is follow the polystyrene path! He said this in such a matter of fact way . . . just follow the polystyrene path. As I scrambled through the buses following Finn on the path that really was mostly made up of decades old broken pieces of foam I tried to recall my secret hideouts as a child. Of course there was some litter . . . there were things that people threw carelessly out of car windows . . . but luckily I grew up just before this massive addition to plastic, especially bottles. So when we found a secret river it was not already littered with detritus that had blown or floated in mass quantities. What will Finn think of when he looks back on his childhood? Will he remember walking on beaches covered with trash? Or will things be so different in the future that a trashed beach will be an oddity?